This institution is an equal opportunity provider.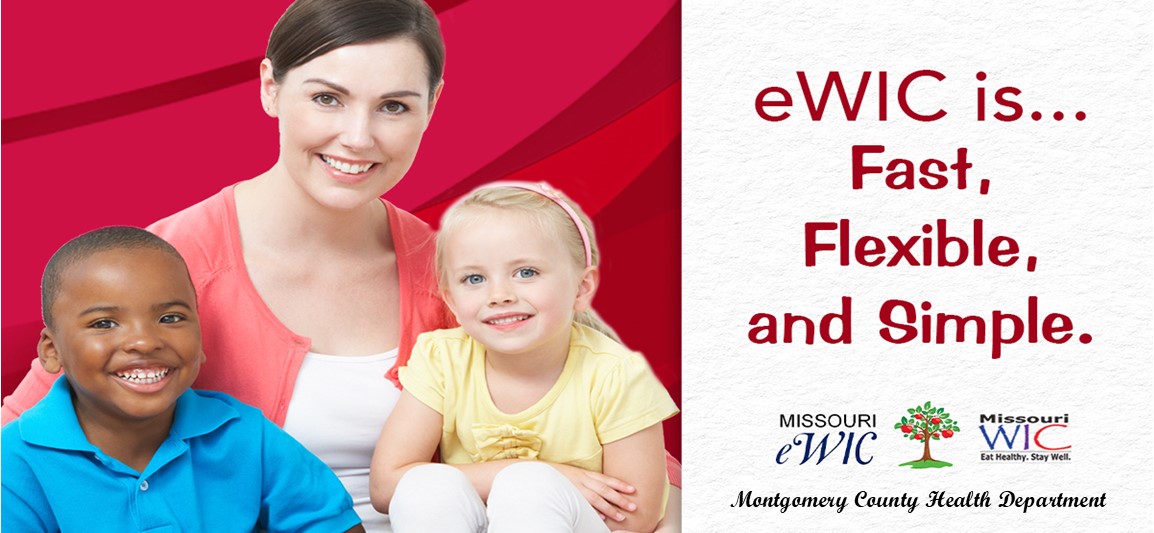 WIC is a nutrition education, health promotion, and supplemental food program to assist pregnant, postpartum, and
breastfeeding women, infants up to 12 months, and children up to age five who have nutritional needs.
Benefits of WIC are provided at no cost to participants and include:
Nutrition education and guidance.
Breastfeeding education and support.
Nutritious food to supplement the participant's diet, such as milk, cheese, infant formula, iron-fortified cereal, eggs, juice, peanut butter, dried beans, fresh and frozen fruits, and vegetables.
Referrals for health care.
Applying for WIC is easy, and those who are unsure if they would qualify are still encouraged to apply. To be eligible
for WIC in Missouri, participants must be a resident of Missouri, meet income guidelines, and medical/nutritional
guidelines. If eligible, participants will be given nutrition education, referrals and an funds on an E-WIC card for
nutritious foods to buy at local participating grocery stores.
Montgomery County WIC Clients are typically seen by appointment only each month:
1st, 3rd and 4th Wednesdays
DO YOU QUALIFY FOR WIC? 
The Missouri WIC program provides supplemental food, health care referrals, nutrition education, and breastfeeding promotion and support to eligible pregnant women, new mothers, breastfeeding and postpartum women, infants, and children up to age five (5). Fathers, grandparents, guardians, and foster parents may also apply for benefits for the children living in their household. To be eligible, you must live in Missouri and meet the following guidelines:
Qualified applicants: Pregnant women, Women breastfeeding an infant up to the infant's first birthday, Postpartum women up to six (6) months after delivery or end of pregnancy, Infants up to their 1st birthday and/or Children until their 5th birthday.
Income: Qualified applicants must fall under the income guidelines listed below. Please call our office for more information.